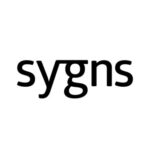 Webseite sygns GmbH
About Sygns
We are building the leading centralised platform for the custom made signage industry. Our goal is to help people and brands realise unique communication in the physical world. We carefully select and develop sophisticated mediums, and employ engineering, technology and an international supply chain to radically improve the value chain and customer experience. Our teams are based in Berlin and Wrocław and service clients around the world.
Your Role at sygns
Objective oriented role with primary target revenue growth
Build performance marketing at Sygns
Improve analytics concept for channel + onsite tracking and associated reporting
Develop marketing strategies with initial focus on pull marketing (SEM)
Execute performance marketing campaigns and guide SEO strategy
Improve customer insight, funnel framework and customer journey holistically
Support quarterly strategy planning and prioritisation on company side
Execute and monitor performance marketing budget and build out team
Manage external marketing agency tightly
Improve customer experience together with product, engineering and CS teams
Who we look for
Generic understanding of holistic marketing concepts and strategy in a (mostly) online environment
Operational experience and expertise in performance marketing channels (min. 2 years)
Preferably B2B marketing experience
Desire for growth environment, personally and on company level
Hypothesis-based and highly analytical and prioritised approach to marketing
Experience with google ads, google analytics, GTM, excel / google sheets and preferable Hubspot
Strong communication skills and high professionality
Preferably strong German (C1) and English (C1) proficiency
Ownership for results and objective-oriented working experience
Why sygns
International, entrepreneurial, and mission-driven team
Trust, sense of ownership and growth opportunities embedded in culture
Sustainable business approach: founded in 2014, no short-hype company or bubble strategy
High level of ambition for growth and quality, founder-driven and controlled
Leading operational, product and technical market position to build on
Young, cooperative and welcoming culture, yet professional
Emotional cool products that are pushing 21st century culture of physical expression
Symbiosis of technology and creative expression, room for career growth
General
We're looking for a hands-on Performance Marketeer to drive our PPC marketing activities and start building a holistic data driven customer acquisition model. We have just launched a new website with a new product scope and additional capabilities. After investing into engineering standards & tech for the last 3 years, we are looking to invest in growth. Your main responsibility will be to drive top line metrics by developing keyword strategies for SEA and SEO then implementing the performance channels and briefing the SEO content team. This involves data driven improvement and reporting systems. You will be reporting directly to a founder and involved in developing the holistic growth strategy and customer model.
Apply here: https://t.gohiring.com/h/9a19eb8e1db99bb0f18bc43a7290e8be2ee64f1fd83dc05573ffd08e1e7712e7
sygns GmbH'
Holzmarktstraße
10179 Berlin