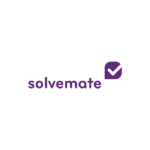 Webseite Solvemate
What do we do?
Enabling meaningful conversations.
Solvemate enables brands to deliver quality customer service through meaningful conversations. Our customer service automation platform is powered by smart conversational AI that allows companies to create chatbot conversations so service teams can focus their expertise where it matters most. Solvemate's unique contextual conversation engine learns more quickly, integrates more easily and resolves requests faster and more reliably than any other chatbot on the market. Brands benefit from a personalized, real-time self-service experience that increases customer satisfaction, reduces costs, and offers actionable customer service insights.
Solvemate is trusted by brands such as On, musicMagpie, ARMEDANGELS, and JustPark.
Why work with us?
First and foremost: the people. You are spending a lot of time with your peers.  You should deeply align with our culture deck and understand why it is important that we have made it that explicit. We are truly working in an atmosphere of transparency, candour, and teamwork mixed with some curiosity – all committed to achieve our long-term big hairy audacious goal.
In addition to working with great colleagues, you can shape the future of a product that makes both the service better for consumers and jobs better for service agents. Be part of our growth story. We're onto something and would like to take you on the journey.
We also offer competitive pay, flexible working hours, team lunches and team events, off-sites, and all the other cool amenities of a young high-tech company.
Remote Option:
We are currently offering the possibility to work 100% remotely from countries with time zones that are +/- 2 hours from CET!
Intro
As our Events Marketing Manager you will support the planning and execution of Solvemate's events and webinars globally. You are passionate about events management in the technology space and working with sales, product and customer service teams. You thrive in a fast-paced environment and define success in terms of the impact of your events on the sales pipeline and revenue. Events play a very important role in our awareness and demand generation strategy and are key to our adding new contacts to our database and increasing engagement with new prospects. Join us on our mission to enable meaningful conversations in customer service.
Your Job
Ensure events are an integrated part of the marketing strategy and contribute to marketing targets
Foster a good relationship with various internal teams to ensure events are well communicated and have support across the organisation. These stakeholders include local marketing leaders, partner marketing, sales teams, business development representatives, marketing operations, and corporate marketing functions such as the web and the social media teams (as required)
Manage the branding of events to ensure global consistency
Optimize thought leadership by seeking speaking opportunities for customers or internal resources
Work with customer success team and sales to source customer speakers for events
Manage the demand generation around an event including promotions across channels to drive attendance, good brand presence and a strategy for collecting new contacts, work with sales to set appointments onsite and follow up activities to increase engagement with prospects and extend the event content
Manage a social media plan for events that include a message promoting our presence before an event, during the event and post event take aways
Manage the logistics of events to ensure a successful presence, ensure internal communication around planned events, manage local agencies in the execution of some events, manage translations, manage the global events budget, and evaluate new events as required
Your qualifications
You can identify with our company culture
3+ years' events management experience
Your German & English skills are on a native level
Exceptional planning and organisational skills
Experience in B2B demand generation environment preferred
Ability to work independently and collaborate with cross-functional teams in a fast-paced environment
Ability to work across several projects with conflicting deadlines simultaneously and manage time effectively
Takes ownership and initiative
Strong project management, written and verbal communication skills required
Rigorous attention to detail and focus on quality of deliverables
Creative thinker and strong collaborative approach
Excellent Excel and budget management skills
Proven ability to work closely and successfully with a Sales organisation
Experience using Salesforce and Marketo desirable
Ability to inspire; positive attitude, and an empathy toward the needs of salespeople
Experience working with G-Suite, Hubspot, Adobe Creative Suite, Lingo, Asana and Confluence helpful
Some travel required – 15- 20%
Mehr Infos und zur Bewerbung geht es hier entlang: https://t.gohiring.com/h/84a449032f2826e5da16edc380525f9d0f5d24fc91635022c75a78528b87fc2d
Solvemate
Friedrichstraße
10117 Berlin