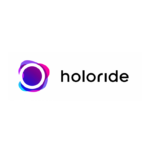 Webseite holoride GmbH
About holoride
We are an Audi-backed, multi-award-winning startup working at the intersection of mobility and Extended Reality (XR). By synchronizing the contents of XR devices with external influences such as acceleration, steering, and navigational data, we are creating a never-before-seen passenger experience.
In order to supercharge this never-before-seen passenger experience our cryptocurrency, named RIDE token, will be essential in building a vibrant and sustainable economy for the holoride ecosystem, connecting car manufacturers, content creators, brands, and passengers and enabling them to capture value along the way.
Based in the heart of Munich, we're looking for a Freelance Copywriter, who can retell our story by crafting excellent original content.
About the job
As a Copywriter, you will develop and create effective, engaging concepts that support business objectives that adhere to an established brand voice.
You will write and edit copy for projects related to print, web, mobile, social media, and product description in collaboration with our marketing and design teams . Your creative output will strongly contribute to a coherent tone of voice and how we aim to get messages across to our customers – whether it's a crisp technical description or longer thought leadership pieces on different domains that we cover at holoride.
Your profile
Bachelor's degree in English, communications, or related field.
Demonstrated writing and typing skills.
Native level in English
Experience writing copy within the technology or media industries.
Passion for writing with an excellent portfolio of work
Good command of the German language
What we offer
The possibility to work on the future of in-car entertainment and collaborate with beloved global brands from automotive, entertainment and tech
The opportunity to take on responsibility for your own projects and ideas, and see the immediate impact of your work
An international, ambitious, and diverse team of experts and highly engaged peers
A supportive and inclusive environment that celebrates diversity, encourages collaboration, embraces creativity, and offers you a space to thrive by being yourself
Attractive compensation based on your experience
Apply here: https://t.gohiring.com/h/b4bcdefd1c535857bfe4c01aee3387199f2a2c9311a31ac9e2c00c3b1d36b638